Mark Twain Library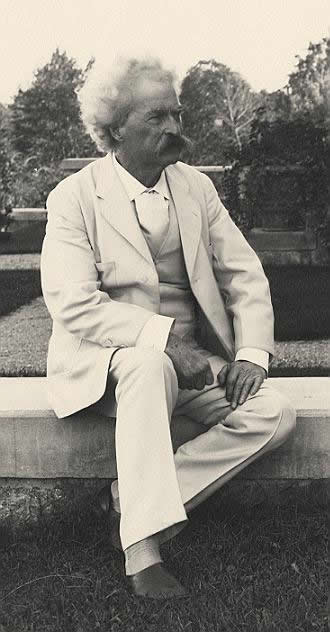 This morning I set off to find the bucolic little town of Redding, Connecticut for an ILL library meeting at the
Mark Twain Library
. Aside from picking up some great tips, one of the librarians gave us the grand tour and history of this
beautiful little library
and enticed us with items from the
Mark Twain Library Store
. She also gave us the history of the library:

The last few years of his life, Mark Twain was living a rather lonely life in NYC and his publisher sent biographer Albert Bigelow Paine to spend time with him, gathering information for a book. Paine and Twain, no rhyme intended, became fast friends, and Paine told Twain he needed to get out of the city and move to the country--and talked him into moving to Redding, Connecticut where Paine himself lived with his wife and children. Twain wouldn't move until the
house
was built and furnished down to a cat in a basket on the hearth, and the day he finally came to Redding all the townspeople came down to the train station to meet this famous author and welcome him. The
home
was on several acres on a hilltop that looked all the way to Long Island Sound.

Twain wasn't happy that there was no library, so he began giving talks, collecting money for that purpose and donated his personal library to the town--a small chapel on a dirt road was the first library. Later, in memory of his daughter,
Jean
, he donated funds for the building of a permanent library and it was originally named after her.

Today, the original part of the library holds cases of the original collection no longer lent out but available to scholars and others. Much of the library is circular, and many of Twain's famous quotations are muraled at the tops of the walls. Beautiful original stone pillars are in the entry way. And, as an added bonus, there was a gorgeous display of hooked rugs hung throughout the library. All in all, a lovely way to spend the morning.
One of the quotations on the walls of The Mark Twain Library:
"My works are like water, the works of the great masters are like wine, but everyone drinks water."