What if?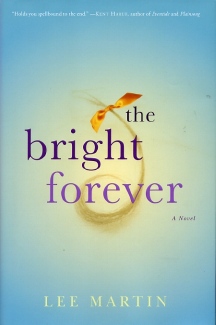 THE BRIGHT FOREVER
by Lee Martin


On a warm summer evening in a small town in Indiana, 9-year-old Katie Mackey, sets out on her bike to return books to the local library and disappears. The town drops everything to search for the the pretty, sunny and well-liked child of one of the most affluent families in town, and suspicion soon falls upon two men, one a local handyman, the other a bachelor teacher and her tutor.

The author uses the voice of four different narrators to look back on the events leading up to and following Katie's disappearance thirty years ago, and examines the choices they made back then that changed their lives forever. Back and forth the reader goes, trying to decide who was at the heart of the crime, and not until the final few pages is the truth revealed.

While comparisons have been drawn to The Lovely Bones and Mystic River, my feeling is that it's not quite up to their level. The characters could have been more finely drawn, with more background…..I didn't quite buy the final premise. A good read, although definitely disturbing.